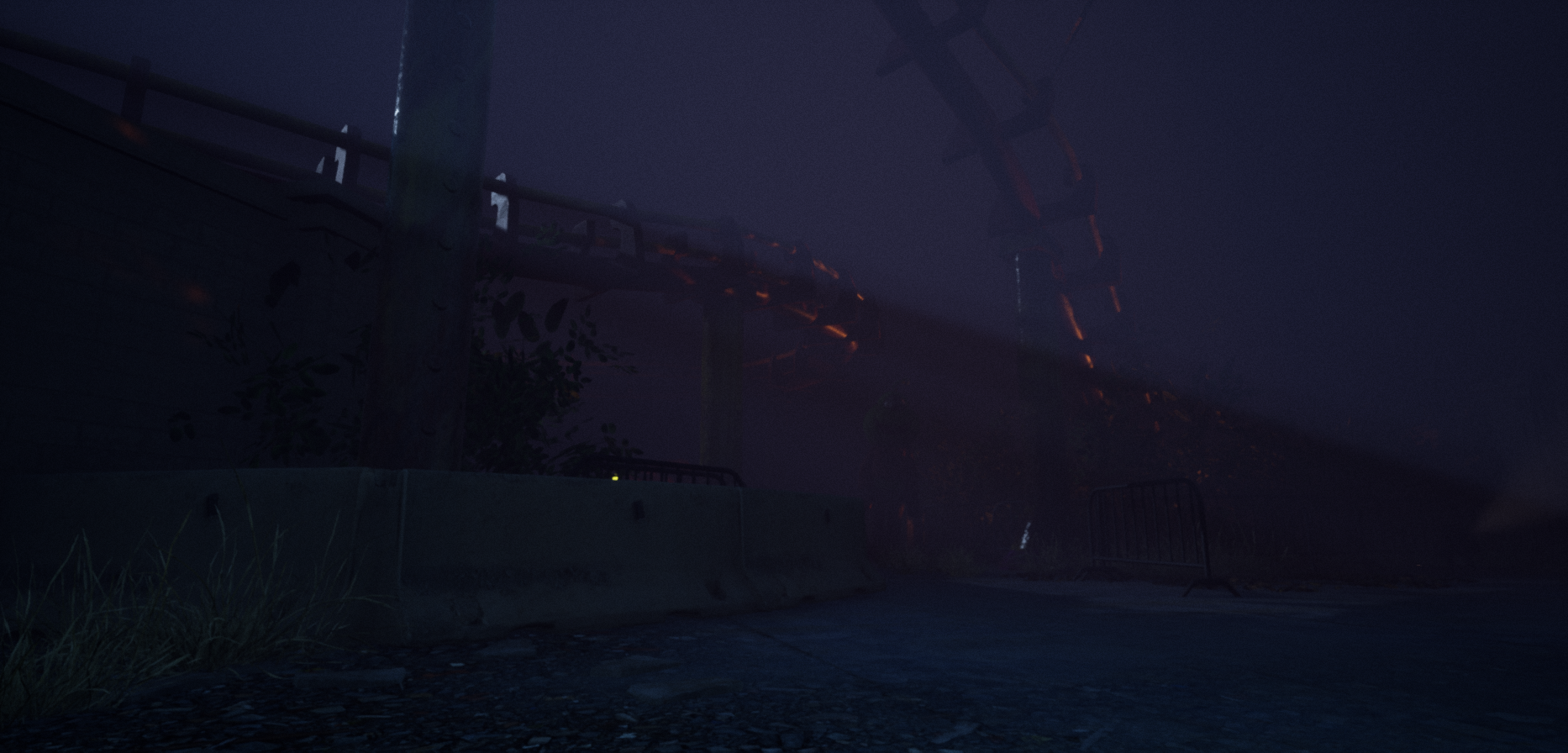 Oogies Spacepark
A downloadable game for Windows
Team
Programmers

Wouter De Moor
Oliver Lambreghts
Enzo Mannaert


Artists

Yvette Kooke
Antijn Van Der Gun
Game summary
You are stuck in an abandoned theme park in the middle of the night, there is no power and no way out. You walk through the park hoping to find a way out, but wait.. you are not alone! An alien mascot is patrolling around the park hungry for human blood, and he has smelled yours. The mascot does not like to be filmed, luckily you brought your camera with you but you only have one memory card so you'll better use your memory wisely.
Controls
Walk around using "W" "A" "S" "D"
Start recording by holding "RIGHT MOUS BUTTON"
Look around using your mouse
Interact with items with "E"
Turn your flashlight on/off "F"
Reload memory card "R"
Comments
Log in with itch.io to leave a comment.
Cool Game Piece of Cake. :) 4/5
When do you think the settings and the graphics option are available?
My computer does not support so much quality, 😂😂😂. I love this game.
We are currently not allowed to post a new build as this is an entry for the epic megajam. Once the grading is over we will post the update + a devlog :)
i hope this game adds settings that has graphics options
When do you think the settings and the graphics option are available?
My computer does not support so much quality, 😂😂😂. I love this game.
Hey! Just tried out the game! I see it is a game jam game so I can't judge too harshly lol. Awesome environment you've made here, the game definitely looks cool. It does feel clunky though, such as the interaction with the safe and all that. Plus for me personally it didn't run super well, I always appreciate a lower graphics option. I tried my best to beat it but I got stuck! I'm not sure what I'm supposed to do after using the handle and fuse on that one ride. It just seemed like it lowered and that was all. Still cool ideas and great for a jam game. If you have time, check out my playthrough! Thanks for making it!
Thank you for playing, loved to watch the playthrough and the feedback you given!
we will definitely update the game and most importantly change the user feedback , right now we can't. we got to wait until the judging is done of the jam :)
The safe does not work. You can't interact with it.
It actually does work, you need to interact by aiming at the numbers, once you entered 4 numbers you'll get a message saying "WRONG CODE" or it will open. I do admit that the player feedback could be better but due to lack of time this was not possible. Maybe this is something we could work on if we opload an update. Thanks for playing the game :)
Sorry The safe does nothing for me. It simply aint working
The Safe kinda works, just played it, but I'm not sure if you make a mistake it will resets. because at some point I made a mistake and the code didn't work anymore. so if you fill in the code good in one try it should open. this definitely will be fixed after the game jam is over :)
I have tried everything. Also no feedback at all when interacting, So no way of knowing.
Yep, your right it is bad, But thanks for noticing it. now we can fix it
You're right, the user feedback only got added in the next build but at that time we couldn't submit it anymore. Try inputting the right code from the get go, without inputting a single wrong digit, and you should be good. Thanks for playing! :)